[Goodreads]: It's 2380 and the graduating students of Aurora Academy are being assigned their first missions. Tyler Jones has been a star pupil who hopes to recruit the squad of his dreams but ends up with a mixed and volatile crew.
And Ty's squad isn't even his biggest problem – that'd be Aurora Jie-Lin O'Malley, the girl he's just rescued from interdimensional space. Trapped in cryo-sleep for two centuries, Auri is a girl out of time and out of her depth. But she could be the catalyst that starts a war millions of years in the making, and Tyler's squad of losers, discipline-cases and misfits might just be the last hope for the entire galaxy.
---
⭐⭐⭐⭐⭐
Aurora Rising was one of my favorite books of 2019 and this year I knew I just had to reread it to get fully back into this world before starting the sequel, Aurora Burning. I couldn't review this book last year for some reason and I also had some difficulty with this review (difficulty as in it was difficult to make it sound good and coherent instead of just a huge fangirl rant because I just LOVE this book SO MUCH).
The story is basically an exciting journey through space with heists, several alien species and cultures, a big bad villain that shall not be named in this review and it's overall a very fast-paced, funny and completely unpredictable plot. Honestly, this is a very character-oriented book and I've seen complaints that the plot and conflict weren't satisfying or were lacking in some way but I personally loved it. Also, the romance subplot really works for me because it's developing gradually and I can't wait to see more of it in the next book!
Now, let's talk about the characters. The characters are the best thing about Aurora Rising. There are seven main characters and all seven have POV chapters so we can see the world fully through their eyes and get to know their history and personality. Personally, my favorites are probably Auri and Fin, though the others aren't far behind. I just disliked Cat and Zila.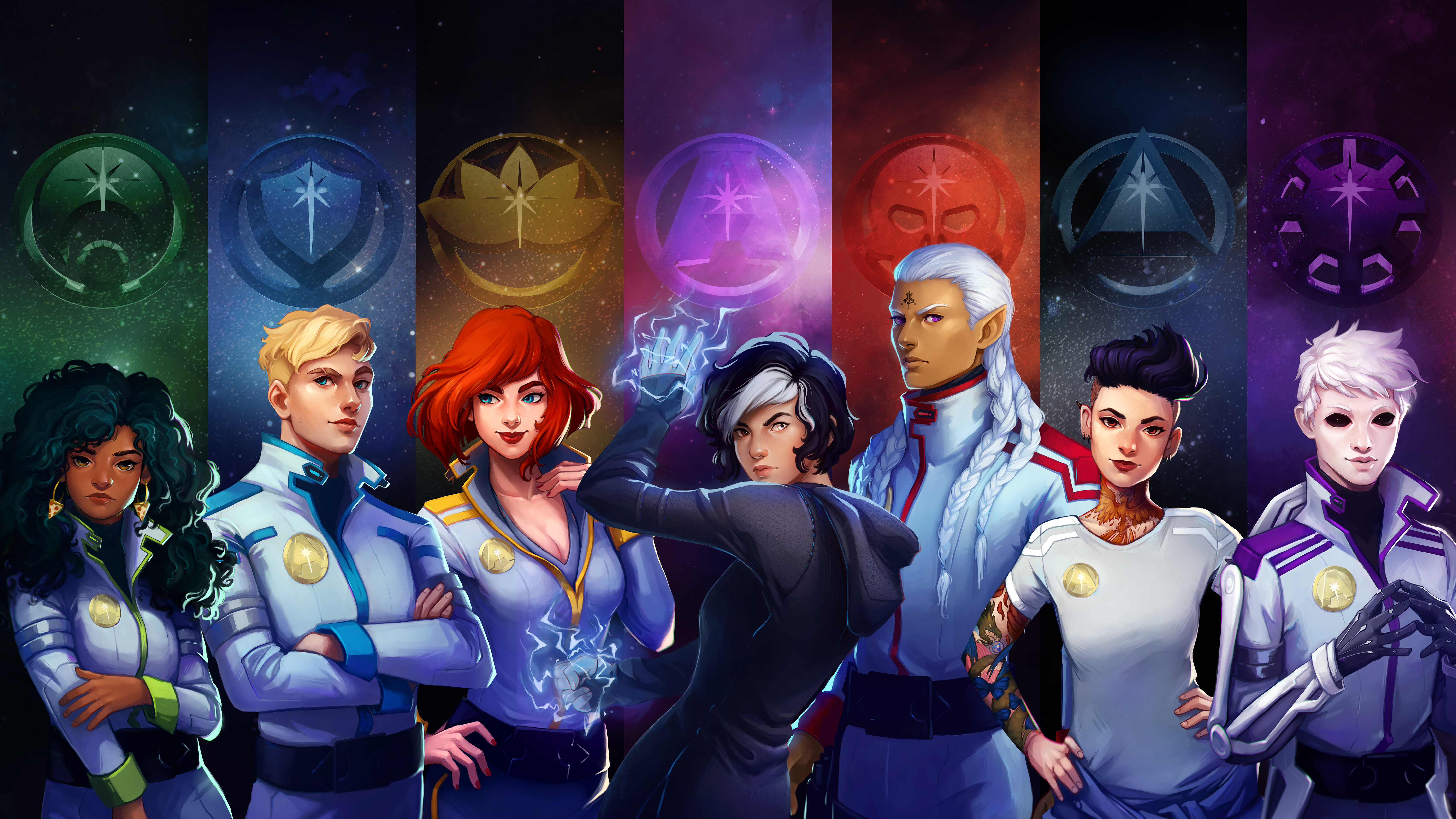 In the picture: Zila, Tyler, Scarlett, Aurora, Kal, Cat and Fin. I thought I'd tell you a little about each one but I'd just rather talk about my favorites.
Tyler is the extremely loyal leader with a really strong sense of duty and is clever and resourceful af. He's kind of a typical good guy but I really liked him (and he's just adorable).
Fin is a very sarcastic engineer with a lot of mobility issues that were caused by a disease that have left him very insecure and vulnerable emotionally as well as physically but he's also kind of a good guy… I just love him, okay, Fin needs a hug and love and I kind of ship with Scarlett (Tyler's hot sister who is a total smooth-talker and has had like fifty bfs but none quite interesting or lovable enough for her to stick with them… so yeah I can see her with Fin).
Kal is a bit of the brooding tall warrior type, loner and a bit of an arrogant jackass sometimes. Plus, he has silver hair so he's basically Rowan but younger, less buff and not a bird. So far, I like him as a love interest and he'd definitely trying to be better and still figuring himself out.
Aurora Jie-Lin O'Malley (one of the coolest character names ever) is a girl that Tyler finds in a cryopod inside a drifting, derelict spaceship. She's been drifting through space for over 200 years and beside having to deal with that and the fact that her whole family is gone, there seems to be a bit of a conspiracy going on and no one is telling her anything. She's super funny, kind and relatable and I just really like her? Also, her chapters made it so much easier to get into the story.
(Do you ever find yourselves unable to explain why you just prefer a certain character over the others when you're writing a review?)
An interesting aspect of Aurora Rising are the black pages at the end of each chapter that provide information on aspects of this world like Aurora Region and each of the character's roles as well as more general history and about alien cultures (visually they kind of remind me of Illuminae).
The writing is fantastic, you know I'll forever stan Amie Kaufman and Jay Krsitoff's books, they're always super funny, I always love their characters. The writing style is just a well-balanced mixture of witty narration and descriptions and the occasional brilliant quote. (My only complain was that ALL of the chapters are in first person POV and it was a bit confusing constantly switching around and sometimes I had to check who was narrating.) Some of my favorite quotes are:
Do moons chose the planet they orbit? Do planets choose their stars? Who am I to deny gravity? When you shine brighter than any constellation in the sky?
Almost every particle in the universe was once part of a star. Every atom in your body. The metal in your chair, the oxygen in your lungs, the carbon in your bones. All those atoms were forged in a cosmic furnace over a million kilometers wide, billions of light years from here. The confluence of events that led to this moment is so remote as to be almost impossible.
Overall, Aurora Rising is an exciting story about a misfit space squad that is completely unpredictable and you will love it because of its amazing characters. If you liked it, or are interested in it, I also recommend checking out the Illuminae Files trilogy by the same authors.